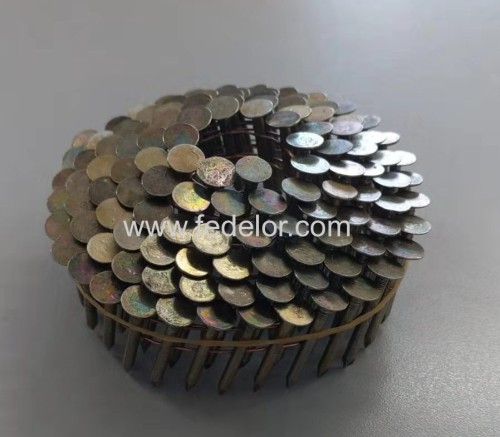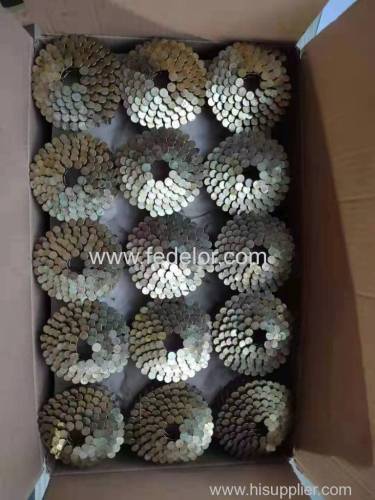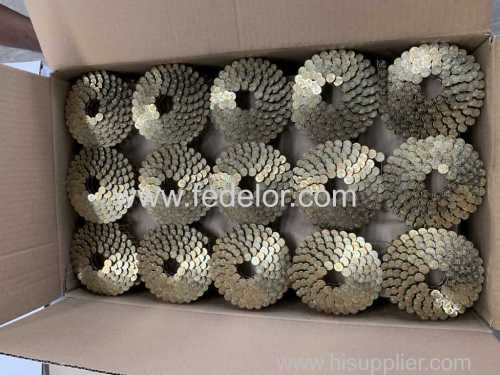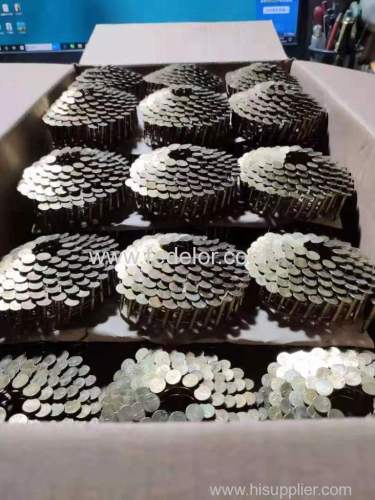 Wire Welded Coil Roofing Nails-15 Degree Admin Edit
Wire Welded Coil Roofing Nails-15 Degree
Features of Coil Nails:
1. Screw thread coil nails, ring pattern coil nails and smooth coil nails are all available;
2. Superficial treatment: impregnating varnish, electroplating, mechanical plating or hot dipping.
3. Good surface finish.

Applications of Coil Nails:
This kind of Collated Nail is used in siding, sheathing, fencing (farming nails), subfloor, roof decking (roofing nails), exterior deck and trim and some other woodworking.
Technical Parameters of Wire Welded Coil Framing Nails-15 Degree:

| | |
| --- | --- |
| Length | 1",1-1/4",1-1/2",1-3/4",2",2-1/2",3",3-1/4",3-9/16", 4" (or 25mm, 32mm, 38mm, 45mm, 50mm, 64mm, 75mm, 83mm, 90mm,100mm) |
| Diameter | 2.1 -3.33mm |
| Angle | 15 |
| Finish | bright, electro/mechanical/hot galvanized, V.C, stainless steel |
| Types of shanks | smooth, ring, screw |
| Basic point type | DP, CP, FP, BDP |
| Packing | As per customers requirements. |

For Use:

| | |
| --- | --- |
| SENCO | SCN65, SCN60, SCN200 & SCN300 |
| MAX | CN565, CN565D, CN565S, CN80F, CN890II |
| PASLODE | F-275C, P-275C, F-325C |

Wire Welded Coil Roofing Nails-15 Degree

Technical Parameters of Wire Welded Coil Roofing Nails-15 Degree:

Roofing Coil Nails
Length(mm)
Diameter(mm)
32,38,45
2.1
50,57,65
2.3
50,57,65
2.5
70,75,83
2.87
65,75
3.05

For Use:

| | |
| --- | --- |
| MAX | CN450R |
| DUO-FAST | DRN-45 |
| PASLODE | 3175 RCU |
| SENCO | SCN40R & SCN200R |
| | | | | |
| --- | --- | --- | --- | --- |
| .120 | 0.375 | SMOOTH | EG | 7.2M |
| .120 | 0.375 | SMOOTH | EG | 7.2M |
| .120 | 0.375 | SMOOTH | EG | 7.2M |
| .120 | 0.375 | SMOOTH | EG | 7.2M |
| .120 | 0.375 | SMOOTH | HDG | 7.2M |
| .120 | 0.375 | SMOOTH | HDG | 7.2M |
| .120 | 0.375 | SMOOTH | HDG | 7.2M |